Achilles Tendon Rupture Repair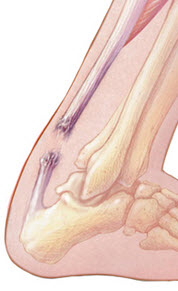 Achilles Tendon Rupture Repair
POP, you feel it in the back of your ankle. It can feel as if someone slugged you with a bat in the back of the heel. You fall down and can barley walk on the foot. Overnight the ankle and heel get swollen and purple. When walking you barley have any muscle strength to move your ankle up and down You end up getting evaluated and diagnosed with an Achilles tendon rupture. What next. The Achilles tendon is the strongest tendon in the body. It is the tendon responsible for pushing the foot down. For example walking up and down stairs and even getting up from a chair are crucial to have a working Achilles. There is evidence that shows to cast these injuries and let the tendon re attach by itself. However what you do not read about is the re-rupture rate after this method of healing. It has been reported that after casting torn Achilles tendons they can re rupture 20% of the time. Surgically repaired tendons show as low as 1% re rupture. Just a few weeks ago I had a patient that was casted elsewhere and not even 9 months later there was a full re rupture, he was so disappointing because he was immobilized for closed to 3 months with the old method.
The good news is that there is a new approach to Achilles surgeries, that has overtaken the old method with long incisions and lots of scarring.  This minimally invasive approach uses a calibrated jig that we pass the sutures through the skin and it locks down the Achilles and draws the 2 ripped sides together. This heals in a beautiful fashion with minimal scarring and faster return to activities. Having performed numerous Achilles repairs using both approaches, I can confidently say my patients are very happy with this approach and all have healed withing 4-6 weeks. With a 0% re rupture rate.
Don't leave your Achilles repair surgery up to chance, make sure you know your options as a patient that there are minimal invasive approaches to repair the tendon. And make sure your surgeon has performed many of them. Feel free to come in for an evaluation to see if this is the right procedure for you
Dr Wrotslavsky is Board certified by the American Board of Foot and Ankle Surgery and completed a orthopedic fellowship in limb lengthening and reconstruction. He practices Foot and ankle surgery in San Diego with focus on sports medicine injuries , bunions , hammertoes, heel pain and Amputation prevention surgeries.
Achilles Tendon Rupture Repair