Runners toenails
Running can be great exercise, one of the drawbacks of running is the multitude of foot injuries that can be associated with it. There are ankle sprains, plantar fasciitis, stress fractures of the foot and runners toenails, besides many other injuries. What is runners toenails , how do you get runners toenails and what can you do once you get it.
Runners toenails can present as a black toenail which can come from a subungual hematoma. It occurs when there is microtrauma at the nail bed. Thus causing bleeding under the nail otherwise known as a subungual hematoma. Not all black nails  are hematomas, some can be deadly cancers such as a melanoma, you should never disregard a black nail because it can be a form of skin cancer. Now back to runners nails.
Once the nail starts to lift off and the bleeding begins , this will happen while running and usually you will not feel it happen. You will notice it after running long distances. Many times the nail will fall off. Many times the nail becomes very thickened and painful in shoes. One can also get ingrown toe nails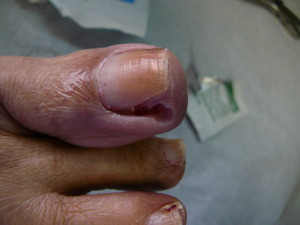 from this. I had a patient that had 3 different layers of toenails growing on each other , while he took off his sock the nail got caught and it was quite a painful situation.
Repetitive nail damage will also allow for fungus to start creeping in and growing under your nail. That can be very unsightly.
Bottom line is Runners nails and black nails from running comes from bleeding under the nail. it can get infected you must see your foot and ankle specialist if the toe is red hot and swollen it could be serious. Wearing proper fitting shoes is very important to prevent this from happening.
There are even some studies that show with certain types of feet and specific foot biomechanics runners nails can be prevented with custom molded orthotics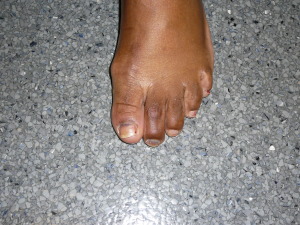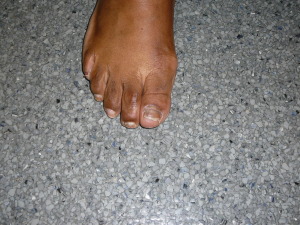 So dont ignore your black toenail it could be more serious than a runners nail ( subungual melanoma)
Make sure to see your doctor if the nail is ingrown or infected. And finally come by for a visit to see the specialized medicine that we have to make your nails look healthy again.